The Royal Orthopaedic Hospital charitable fund exists to add value to the amazing work of our talented and dedicated teams. We put patients at the heart of all we do and that makes all the difference. If you'd like to donate to us, you can find out how below.
Our medical treatment is of course funded by the NHS. However, as anyone who has visited or spent time in a hospital will know, medical treatment is about much more than operations and consultations. It's about care and the extra mile travelled to make you feel better. This is why the Royal Orthopaedic Hospital has its own charitable fund to which anyone can contribute; so that people who have experienced the care at our hospital can show their support for our work.
We've used donations in our charitable fund for lots of good causes like supporting the development of more junior care staff, improving the hospital environment for patients, supporting research into rare forms of bone cancer and updating gym equipment for physiotherapy. Your donations make a real difference!
How you can support us
There are four different ways you can make donations to the Royal Orthopaedic Hospital:
Donate or fundraise online using our Just Giving page at www.justgiving.com/roh
Give your donation to a member of staff at the hospital. They will make sure it is taken care of and put in the right place.
Send a donation through the post addressed to the Communications Department at The Royal Orthopaedic Hospital, Bristol Road South, Birmingham, B31 2AP
Pay a donation directly to the Cashier, who is based in an office on the first floor of Outpatients in the hospital.
Fundraising activities
If you'd like to plan a specific fundraising activity or take part in an established activity (like running a marathon) get in touch. We'd like to help publicise your efforts to support your fundraising.
Gift Aid
Gift Aid enables us to claim back money from the Government for donations that are made by UK Tax Payers. If you donate online, Just Giving will give you the chance to complete a form on screen. If you are giving by any of the other means, document download and print this form (606 KB) to go with your donation to help us make the most of your gift at no cost to you.
Remembering the Royal Orthopaedic Hospital in your will
Some people choose to make provision in their will for a gift to be made to the hospital's charitable funds after they die. This is something you can arrange quite easily with your solicitor when you make or adjust your will. However, if you wish to discuss it, then please do get in touch with us.
Contact us
For further information, please contact the Head of Communications on 0121 685 4329 or email This email address is being protected from spambots. You need JavaScript enabled to view it.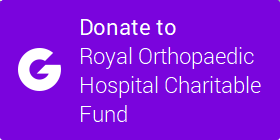 The Royal Orthopaedic Hospital Charitable Funds | Registered Charity Number 1078046