Helping brave Amelia dance again
A seven-year-old patient at the Royal Orthopaedic Hospital has been making headlines after she underwent a special procedure to reattach her leg backwards.
Amelia Eldred from Tamworth was diagnosed with an osteosarcoma in her left leg in August last year. She underwent chemotherapy sessions, then had surgery to amputate the affected limb.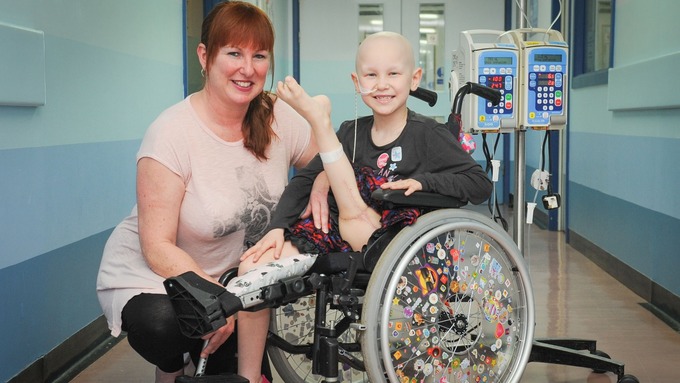 Image credit: BPM media
The procedure known as a rotationplasty involves the portion of the limb with cancer being removed, while the remaining limb below is rotated and reattached. The limb is rotated because the ankle flexes in the opposite direction compared to the knee. The benefit to the patient is that they have a functioning knee joint and can run and jump. This procedure saved Amelia from having an amputation at the hip and will mean she can continue to enjoy an active life in the future.
Real bravery
Amelia was incredibly brave throughout the entire procedure and was supported by her amazing family and friends. She is a keen dancer and now has the opportunity to dance again following her operation at The Royal Orthopaedic Hospital.
Professor Lee Jeys completed the procedure and has been very happy with Amelia's progress.
"She was the perfect patient to have this procedure and even said 'goodbye loser' to the cancer as we prepared to amputate. She has shown real bravery and confidence in showing off her leg, even though it looks a bit different. I'm glad that she'll be able to continue doing all the things a normal child can do including sports and dancing."
Oncology at the Royal Orthopaedic Hospital
The Royal Orthopaedic Hospital is a leading centre for orthopaedic oncology. The team specialises in the diagnosis and treatment of benign and malignant tumors of bone and soft tissues and carries out a number of ground-breaking procedures.
The Royal Orthopaedic Hospital is known for it's ground-breaking work and earlier in the year was the first NHS hospital in the country to beging using the MAKO robotic arm during hip and knee replacements.